Today I received a build of Furoticon Online that has functional gameplay. Let's do our update!
We've taken a few steps backwards as far as functionality is concerned, but at least I can provide you with screenshots! Let's take a look at what you first see when starting a game: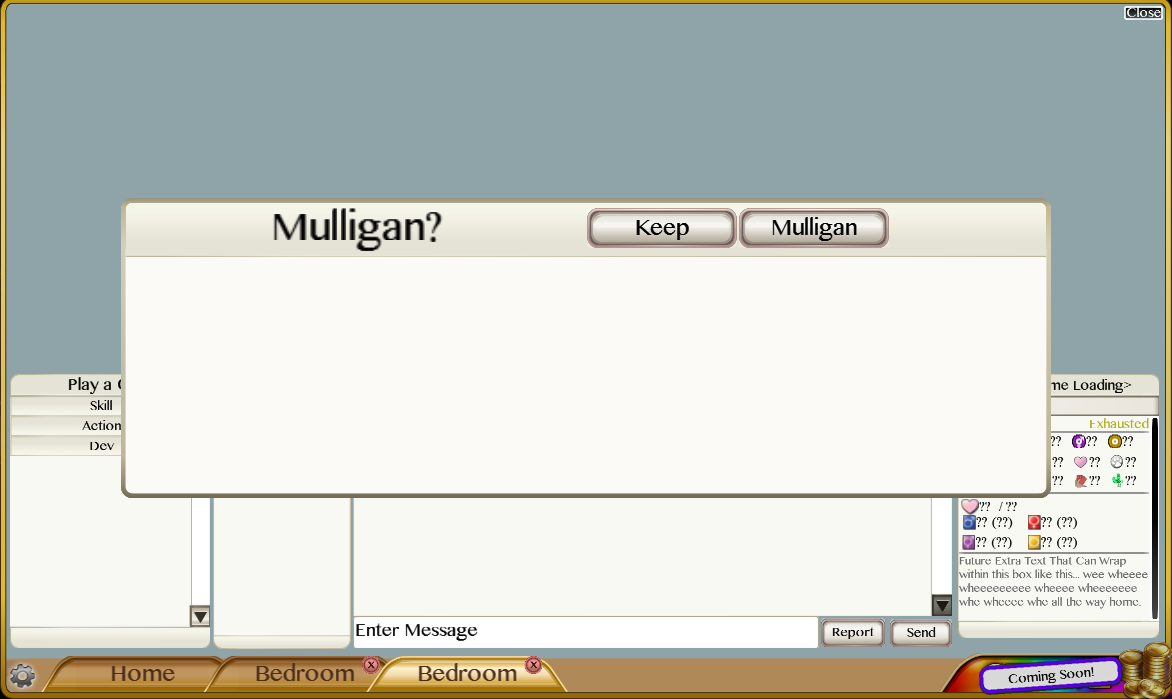 I know what cards I have in hand because the system is forgotting to shuffle decks at the beginning of a game, which leaves me with the same opening hand every game. This means I know taking a mulligan works correctly, because choosing that option gives me a new hand of cards!
In this example game, I'm playing a 2-player game against myself. Therefore, I've opened two gameplay windows, one for each "player." I click "Keep" on both gameplay windows, and the game begins.
There's currently no visuals for any part of the game scene. Chat functionality isn't restored either. So we're going to depend on the action box in the bottom-left corner. It shows all the actions we can take!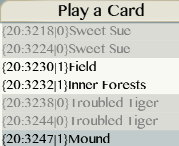 I've drawn an extra card in this screenshot. This may seem a little confusing at first, but ignore the numbers to the left (they're only for the developers to debug stuff). What's important is that I have a hand with 2 Sweet Sues, a Field, an Inner Forests, 2 Troubled Tigers, and a Mound. The game has helpfully highlighted the cards we can play, given our current Action Points (AP) and Gender Points (GP).
In this next screenshot, I've played the Inner Forests and it's my next turn. In Furoticon, you have three steps – Refill, Refresh, and Main – and when you play any sort of Haven card, that resource isn't available to you until your following Refill step:

The system has accurately given me 2 GP to go along with my 10 AP! I can now play either of my Sweet Sue cards (notice that they've been highlighted). (The devs have intentionally left Inner Forests on the list for debug purposes.)

I played one Sweet Sue for 4 AP and 1 GP! This was still during my turn, so you can see that my AP and GP have been used up appropriately.
Then I played another Sweet Sue with my remaining resources, and passed my turns back to myself. I decided to swing with both of my Sweet Sues, but I ran into a problem: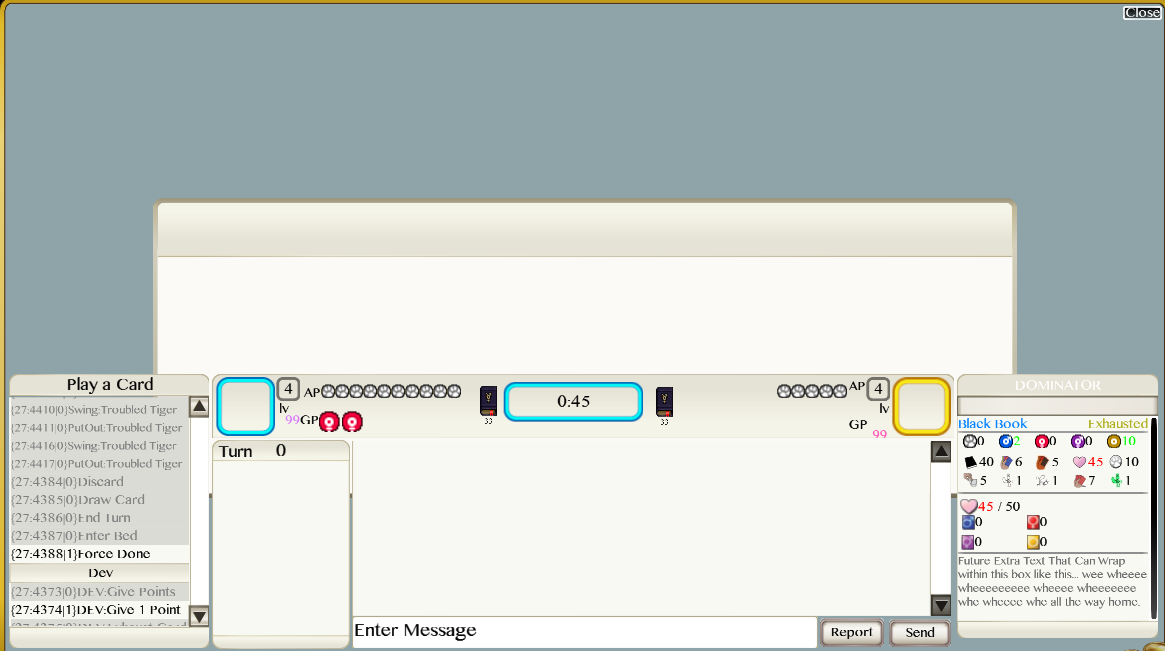 A box appeared on top of the background, and beneath the UI! I'm assuming this was a box where I'd choose which Furres to swing with, but it appears to have not been updated with the new graphics yet. I can't click anything so I'm stuck on this step.
Thankfully, the developers have a debug option to save me: "Force Done" (found at the bottom of the card list on the left-hand side).
I clicked it, then passed turns back and forth to try something different, but then I got an unexpected end-of-game notification:

That's not correct! A draw should only occur if ALL players have no activity for 3 turns. In this test game, I only had no activity on one side. Bug report!
I then tried another game, but it quickly got locked up when I was forced to discard at the end of my turn: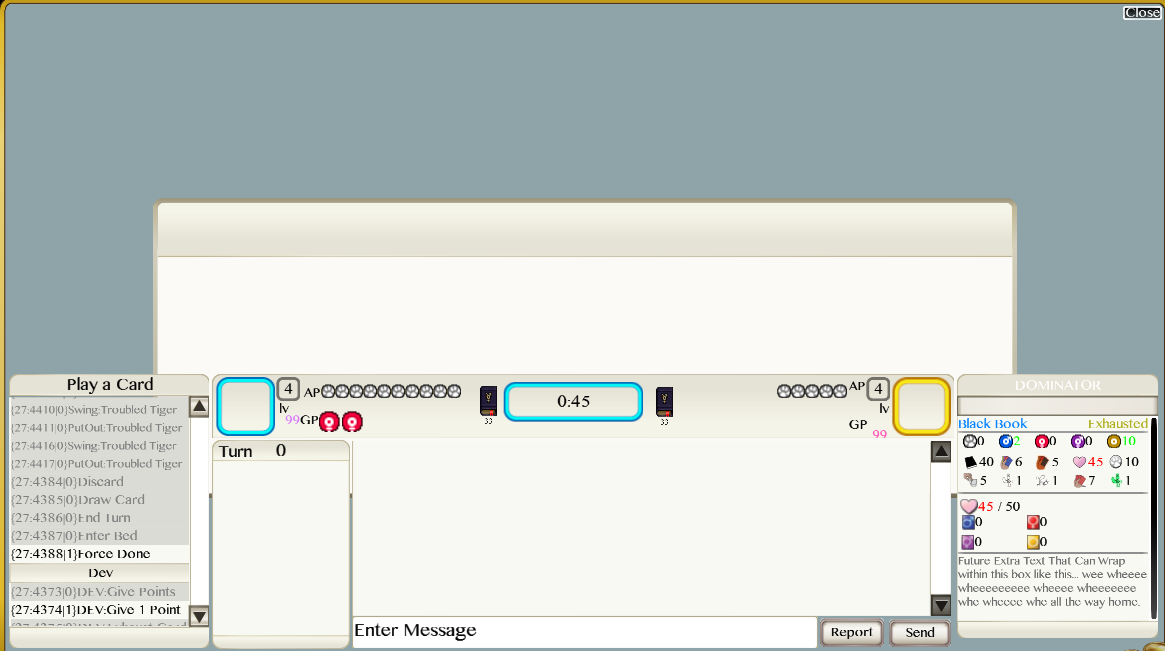 Not that box again! Bug report!
And that's as far as I can get in gameplay right now. I hope this illustrates why we aren't ready to provide an "early access" version of the game. The development team is working very hard to correct these issues. Avatar, card images, and bedroom scenes are also being added!
I hope to be able to show you much more next week!