Hello, everyone!
We'd like to take a moment to thank our Webmaster, Mahsroh as our Webmaster so we can update it more easily. You rock!
Moving on! Today I'm going to talk about your first time signing into Furoticon Online! Getting set up is very easy! Just to be clear, the following screenshots are from actual gameplay: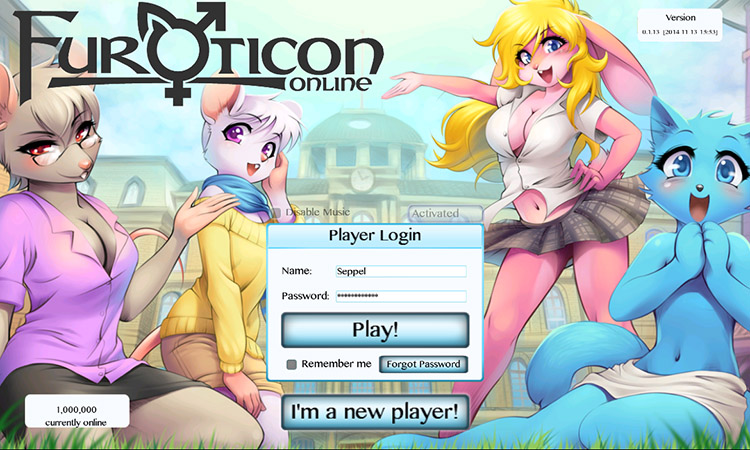 This is the login screen, where your adventure begins! If you already have a Furoticon account, you can simply log in, and start getting set up. But if you don't, that's no problem! Just click on "I'm a new player" and you'll be taken to the account creation box.
Offbeatr supporters won't have to see this box, since they all have Furoticon accounts. I just wanted to show you how easy it is for all your friends to hop into Furoticon Online: just a username, email, and password! (And, of course, they have to be 18+ and agree to the terms of service.)
Whether you login or you create an account, you'll be taken to the Character Creation screen!
This is what it would've looked like if I had designed it:
Here's what it looks like now:
Neat! But where are the avatar pictures?
The art development team is finishing up the player avatars at this time. The last step will be to add them to this screen.
The Character Creation screen is very easy to use: Pick an avatar, pick a starting deck, and optionally give your character a brief description. Then you can play!
At the bottom of the screen, you'll notice a tab architecture. We want you to be able to explore Furoticon Online as easily as possible, so you can swap between chats, games, and other areas just by clicking on a tab! The gear icon on the left lets you log out, and the "Coming Soon" button on the far right will take you to the store as soon as it's ready.
Aside from adding the avatars, the Character Creation screen is complete!
Next week, we'll explore the main menu!